Description
K2 Double Instrument Power Table Model No. K2032RT
ACP Technology
 Compact H-Base
 Top Size: 20" x 32" (510 x 810)
 Capacity: 2 Instruments
 Model No. K2032RT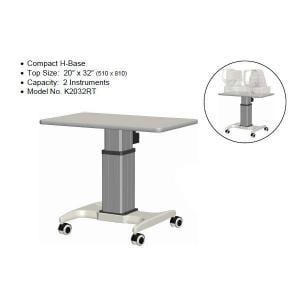 K2 Tables are designed with proprietary adaptable and interchangeable features. A single K2 Table can be assembled in a variety of different ways to meet the requirements of virtually any instrument, or group of instruments. This concept, known as Adaptive Column Positioning (ACP Technology), brings unprecedented benefit to our customers.
Let K2 Tables adapt to the way YOU do business. Is space at a premium in your office? K2's compact, H-base design may be the answer. Then, as your needs change and your practice grows, consider our exclusive trade-in / trade-up program. Return to us your compact base and trade up for a large base and large top assembly. You retain the original column (the backbone and main com-ponent of the table) and purchase only a new large base and top. In doing so, you will save hundreds of dollars on the cost of a completely new table.
Consider, also, the uniqueness of the K2 wheelchair accessible large base design. There are situations where certain instruments will function best when placed on a table with a CENTER-mounted column; other times instruments need a FAR-LEFT or FAR-RIGHT column mount; and still others will require a MID-LEFT or MID-RIGHT column position. To accommodate all of these situations and instrument configurations, just a single K2 column/base assembly will suffice. To illustrate the applications of ACP Technology, please view the following pages.